Ladies: It's Never too Late to Take Up Golf
Olde Cypress member Minda Traffican didn't think golf was for her. And who could blame her? Despite exponential advances in accessibility and inclusion, golf is still intimidating for many women—especially those who didn't grow up around the game. And then there's the sheer difficulty. Who in their right mind would spend hours trying to get a small white ball into a small cup hundreds of yards away?
Well, Minda, for one!
And as it turns out, thousands of women like her are drawn to the game later in life when the daily grind slows and more "me" time becomes available. Case in point: Olde Cypress has become a hotbed of women's golf in Southwest Florida. From beginner instruction and nine-hole leagues to competitive tournaments, Minda and many members like her have discovered that golf is a wonderful second act.
"I officially started playing back in May," Minda says. "I'm retired but I'm super high-energy, and there's so much to do here at Olde Cypress, it's like an adult day camp. I didn't think I needed golf to stay busy. My husband Rick got addicted to it and he was like, 'you should give it a try.'"
And so, she did.
Minda soon discovered the club's secret weapon when it comes to women's golf – assistant professional Courtney Figueroa. Courtney played collegiate golf at neighboring Florida Gulf Coast University. She started teaching the game shortly after, studying under elite, nationally recognized instructors like Dave Pelz and Andrew Rice.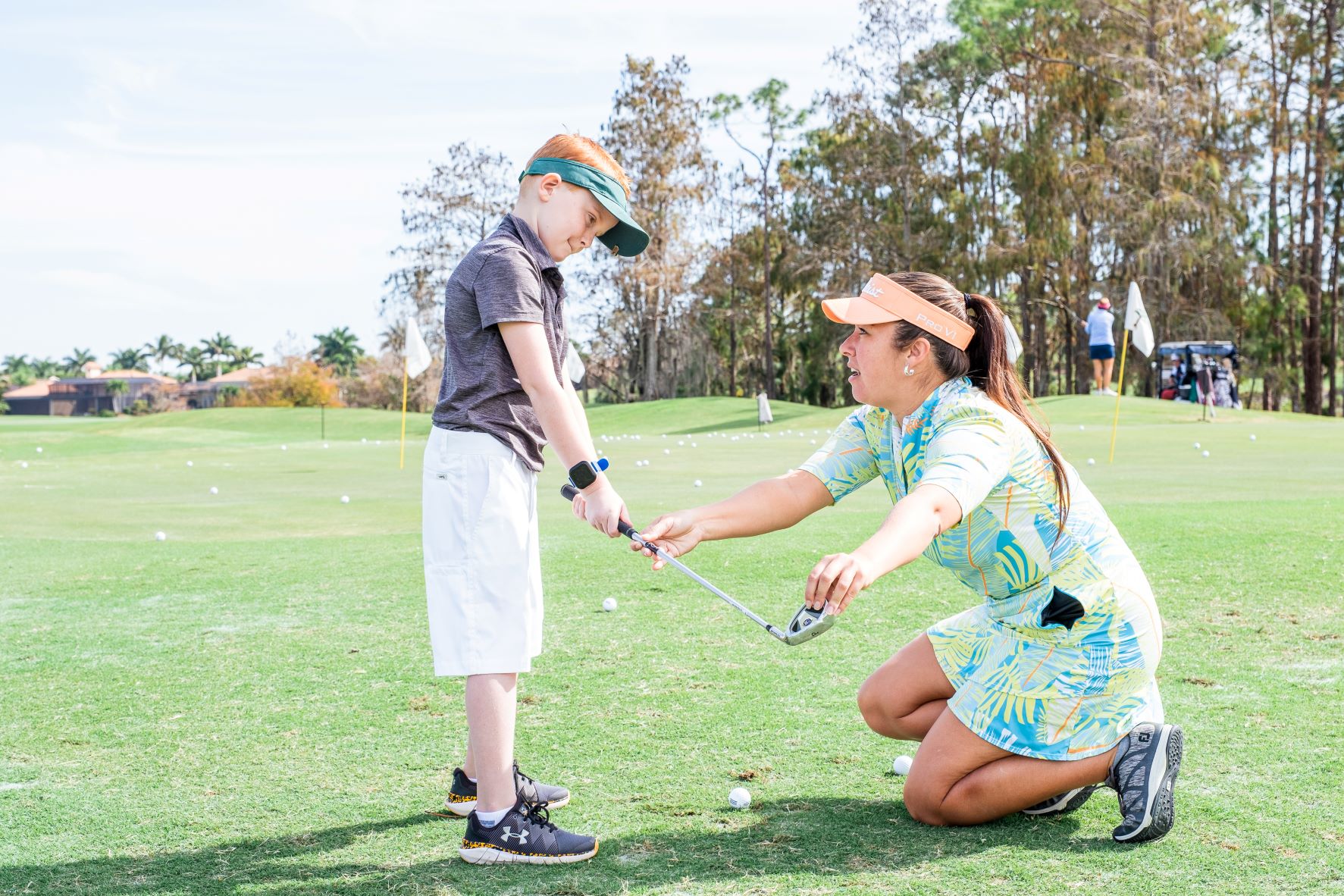 Olde Cypress Teaching Professional Courtney Figueroa
Minda and a few lady friends at the club booked a "five pack" group lesson with Courtney covering everything from rules and etiquette to short game, full swing and strategy. Blessed with unwavering determination, Minda knew patience was critical in getting through all five lessons and putting in additional time practicing what she'd learned.
"Minda had her first par the other day and came into the golf shop to tell me about it," Figueroa says. "What I love is her commitment. She's playing nine holes a few times a week and will be setting up a GHIN handicap so she can play in events and tournaments."
Figueroa likes to remind women that it's never too late to take up the game. All that's required is a little flexibility and strength to swing the club and endurance for walking to and from shots and around the greens. The game's handicapping system allows players of all skills levels to compete against each other. And the reality is, other golfers don't care how you play, just that you keep up with the pace of play and repair divots and ball marks.
In addition to group lessons and seasonal clinics, Figueroa says Olde Cypress offers private instruction, including playing lessons that stress course management. Here are Courtney's top tips for getting golf ready.
1. Take lessons from a golf professional to get the fundamentals down. YouTube videos are fine for supplementing what you've learned, but in-person lessons are critical for getting started.
2. Set up is critical; the ball isn't moving like in most other sports. Take your time to set up correctly. Most people can't swing a club like Tiger Woods, but almost anyone can set up like him.
3. Have patience and practice as much as your schedule allows. The golf swing is all muscle memory. Try to carve out a few days a week in which you can hit balls on the range, practice your short game and work on the drills your coach gives you.
Minda (fifth from the left) and Rick (second from the right) Traffican
And don't forget, taking up golf is the perfect excuse to visit the recently remodeled Olde Cypress golf shop, which offers a broad range of women's golf apparel and equipment. We also offer demo days on at the practice range with several big brands.
Olde Cypress memberships are designed with the needs of today's golfer in mind, and Director of Membership and Marketing Melissa Hansen is standing by to answer any questions you might have.