Member Profiles: Heckmans & Logans
Olde Cypress Full Golf Members Go 'Full Florida'
The change wasn't subtle, yet it happened faster than a Southwest Florida sunset. This time last year, Olde Cypress member Jim Heckman was a dyed-in-the-wool Connecticut Yankee, to borrow a term from Mark Twain. You were likely to find him sporting bespoke attire and playing golf at his local club in Farmington, Conn. Nowadays, good luck getting Jim to reprise his New England preppy persona.
"He's gone full Florida, just like that," says Heckman's wife Adri, a noted performance coach for female financial advisors. "He's wearing shorts, Tommy Bahama short-sleeve button downs and loafers without socks. He's come to life. He's reborn. He's busy, busy, busy."
Jim and Adri first visited Naples in March, moved south in May, and quickly embraced everything Southwest Florida has to offer: The languid heat, the omnipresent sunshine, fresh seafood from the Gulf of Mexico and (as previously attested) the wardrobe change. Acclimation at its best. The only thing the Heckmans didn't immediately source? A new country club to call home.
Adri and Jim Heckman at Olde Cypress
"Our biggest challenge [upon arriving] was finding a golf club and course we liked," Adri says. "We wanted a challenging course that would keep us interested because Naples is our forever home. And I host events and meetings for women and wanted a club with great facilities and a fabulous atmosphere. The third thing was the food. We wanted a club where we could savor the cuisine every night."
Enter the Club at Olde Cypress. The Heckmans joined in May and have fully immersed themselves in social events, dinners, golf tournaments and more. They've met dozens of members both new and old, made new friends for life and even sampled other private courses via Olde Cypress's market-leading reciprocal program.
"Some of these other clubs felt so pretentious and when we toured Olde Cypress, we didn't feel that at all," says Adri. "You can't tell the billionaires and the millionaires from those who're just retired. Picking a club is more important than choosing a house because that will be your world. You could easily live outside Olde Cypress and feel like an outsider, but there are so many members from outside the community you don't feel that way."
While the Heckmans bought a condo outside the community, Michelle and Mike Logan closed on their Olde Cypress villa last October. The Brighton, Mich. natives vacationed on nearby Marco Island after their daughter was born and ultimately fell in love with the Paradise Coast. Mike continued taking golf buddy trips to the area over the years, and when it came time to find a vacation home, Naples topped the list.
"We looked all over the area and finally found Olde Cypress," Michelle says. "We wanted the best of all worlds: close to the beach, the airport, shopping and entertainment. The private club market is crazy here, and we were fortunate to find Olde Cypress."
Emblematic of new generation of country club members, both Michelle and Mike are in their mid-50s. Michelle lives at Olde Cypress from December through May, working from home and traveling when needed for business. Mike is still based in Michigan but flies down to Naples regularly to enjoy the club and play golf with friends.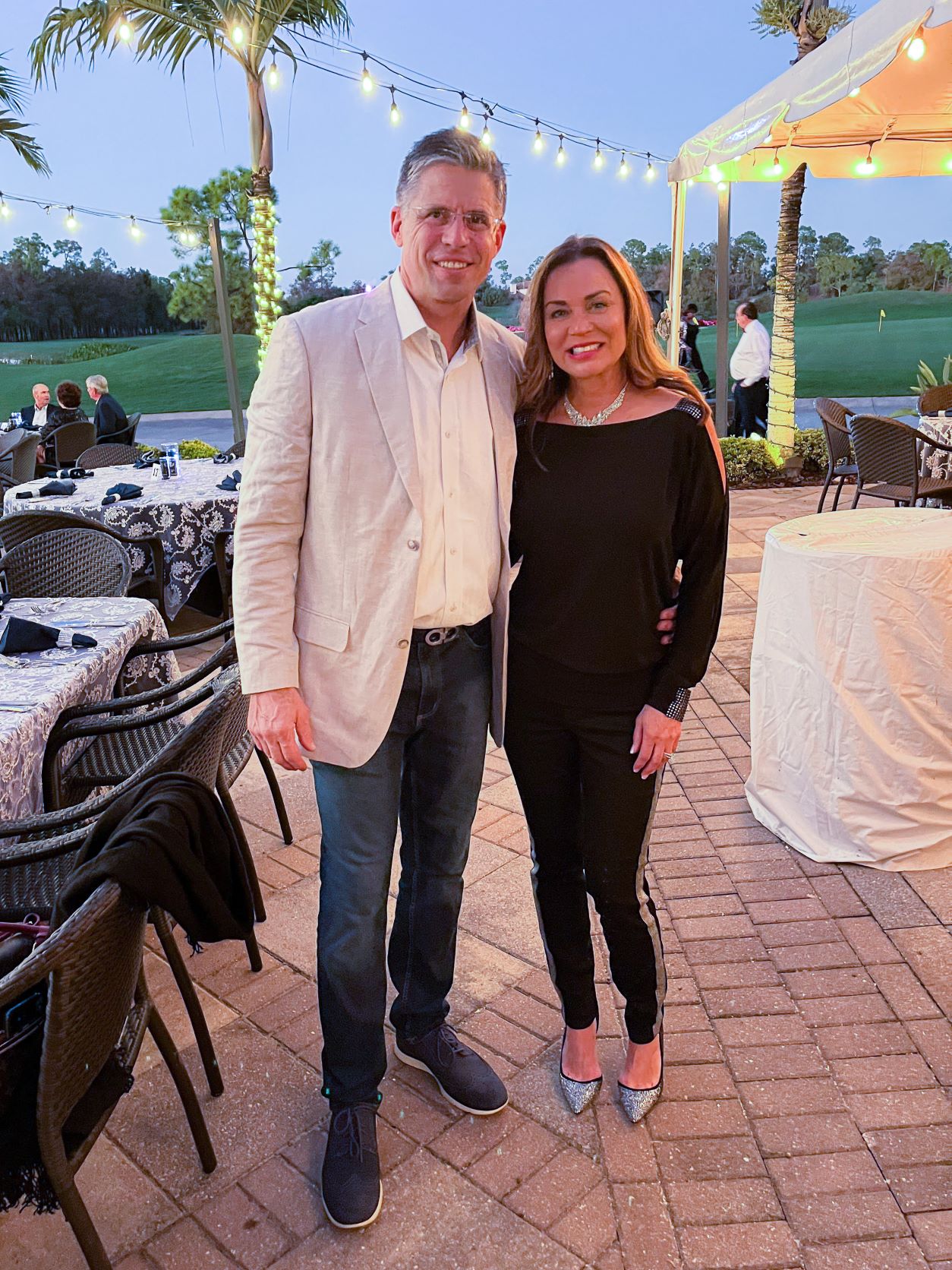 Mike & Michelle Logan at Olde Cypress
"We both play a ton of golf," Mike says. "We play in leagues and tournaments and with each other and other couples. Michelle joined the nine-hole ladies league. And I love bringing my buddies here to play. I know I'm going to beat them because this is a challenging golf course that we're used to playing now."
Mike says he and Michelle were familiar with Pete Dye but hadn't played any P.B. Dye-designed course while living in Michigan. Once they toured the course, they found it more representative of an upper Midwestern layout with all its mounding and (for Southwest Florida) elevation changes. As for their perfect "Olde Cypress day," Mike and Michelle agree it would involve golf followed by dinner at the club.
"As new members, we couldn't be happier," Michelle says. "The level of service, the golf course, the golf shop and the clubhouse – it's all just amazing. The welcoming nature of people at the club, the members and the staff – we were so pleased and happy. The women in the nine-hole league have been so inviting."
The Logans and Heckmans are Full Golf Members with unlimited, year-round access to the golf course, practice facilities, clubhouse, amenities, activities and reciprocal program. Olde Cypress also offers an Associate Golf Membership with golf privileges granted May through October and year-round clubhouse and amenity access.
Olde Cypress memberships are designed with the needs of today's golfer in mind, and Director of Membership and Marketing Melissa Hansen is standing by to answer any questions you might have.