Olde Cypress P.B. Dye Design Shines in the Summer with Expert Conditioning
Brad Haynes, Olde Cypress Director of Golf Course Maintenance, has his sights set on summer.
Sure, it's felt like summer in South Florida for a while. But once June hits, the heat and humidity along the Paradise Coast get kicked up a notch or two. Of course, Haynes knows this and knows it well. He's been at Olde Cypress for over a decade learning all there is to know about various strands of Bermudagrass.
"Summers aren't nearly as slow-paced as they used to be, I'll tell you that for sure," Haynes says with a chuckle. "The days of old when we had a totally quiet golf course from June through September are gone. We have new members who live here year-round, young members who're working in Naples full time and associate members who get max use out of the course in the summer."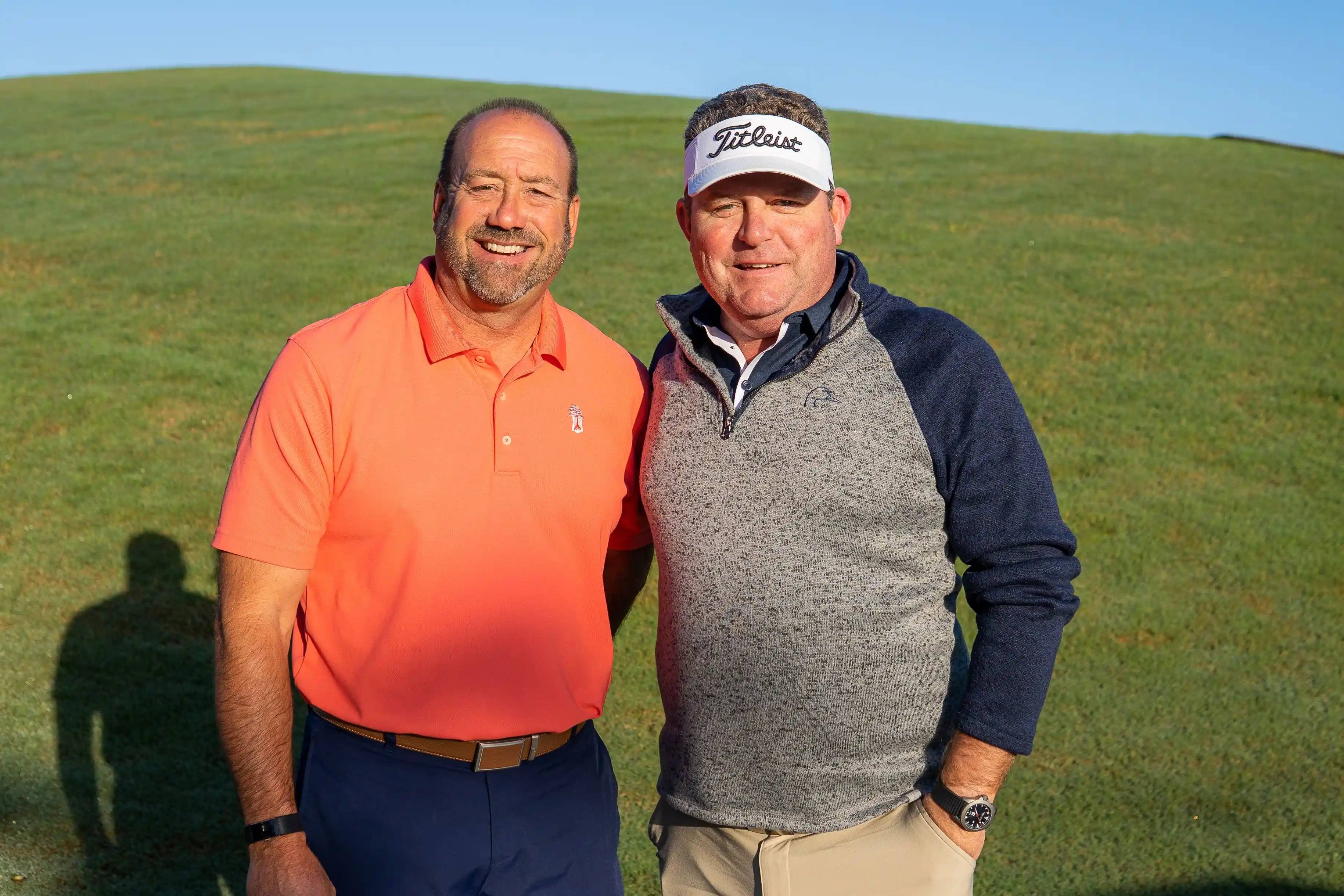 Brad Haynes (Right), Loves His Job.
And Haynes is quick to point out that Old Cypress' robust reciprocal program is a major factor in both new and longstanding members choosing to stay in Naples year-round.
"There are so many factors at work, but the reciprocal program has been huge in keeping many of our members here for the summer," he adds. "That stated, there's still a lot of work that has to be done to keep the golf course in world-class condition."
For example, Haynes says he and his crew can't forgo top dressing and verticutting, which are scheduled for June, July and August and require the course to be closed for a few weeks at a time. Tees and greens are also sprayed weekly with fertilizers and growth regulators, keeping the leaf blades smaller on the greens for truer putting lines.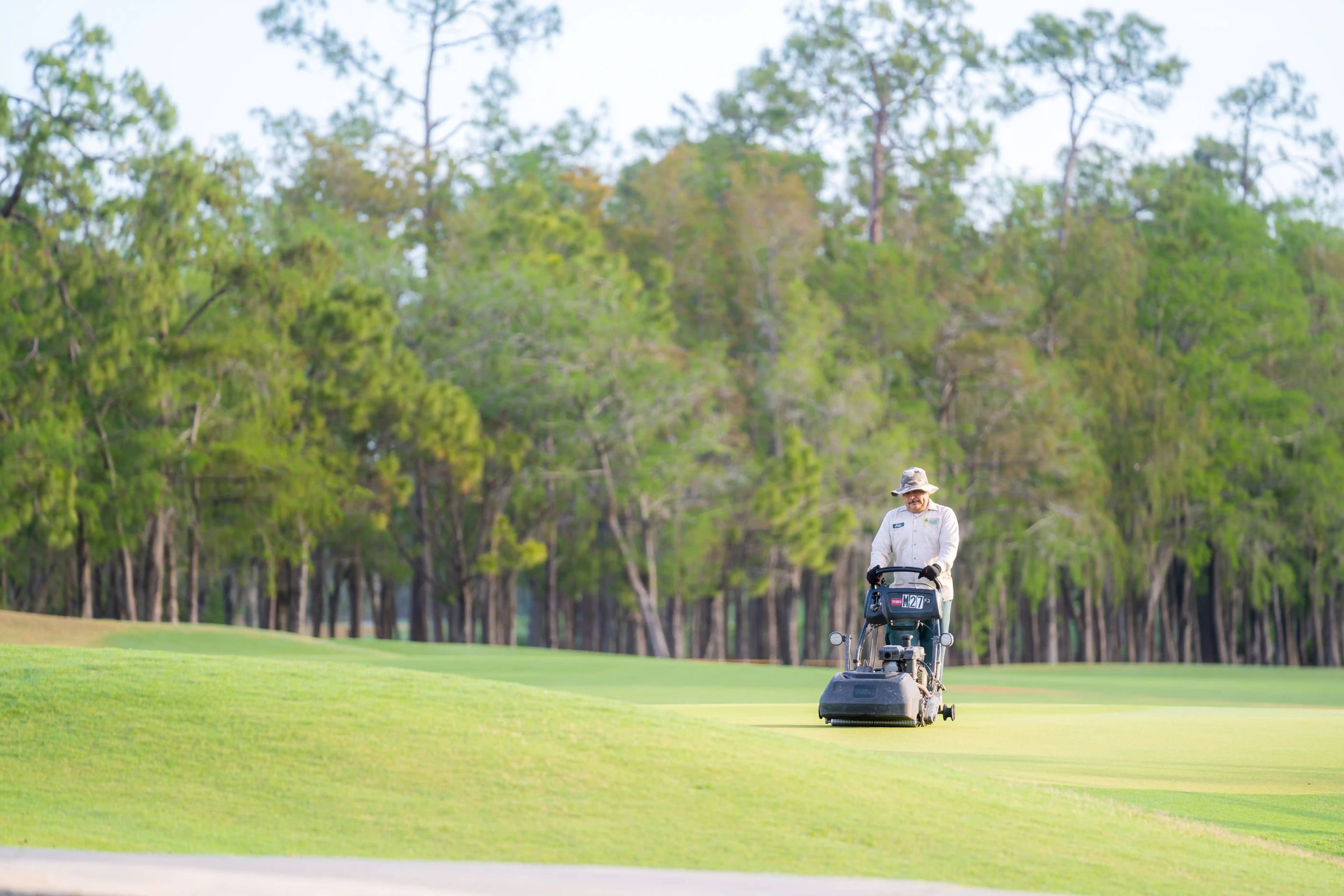 Summer Maintenance Underway.
"Some courses try to cut back on summer maintenance to accommodate play, but then you pay the price later," Haynes says. "We stick-edge the greens twice a week in the summer to keep the Bimini Bermudagrass [a textured, dark strand in the collars] from encroaching on the TifEagle greens. We're always going for purity. On Mondays during the summer, we close the course and get six guys and paint brushes to go around the perimeter of the greens with Roundup and kill the Bimini."
Haynes has learned over the years that greens are challenging during the summer for maintenance crews in Southwest Florida due to the heat, humidity and rainfall. And rainfall is usually delivered daily from June through September in the form of short, severe thunderstorms.
"Our greens were built to full USGA [United States Golf Association] standards, and we also added precision air loops around the perimeter to tie into the lateral lines and make it a closed system. Then we can pull water out of the green or blow air in," Haynes says. "In the fall months, we're still warm and humid and have some shade, so we can do the reverse – blow air through the root zone and dry them out. It's pretty awesome"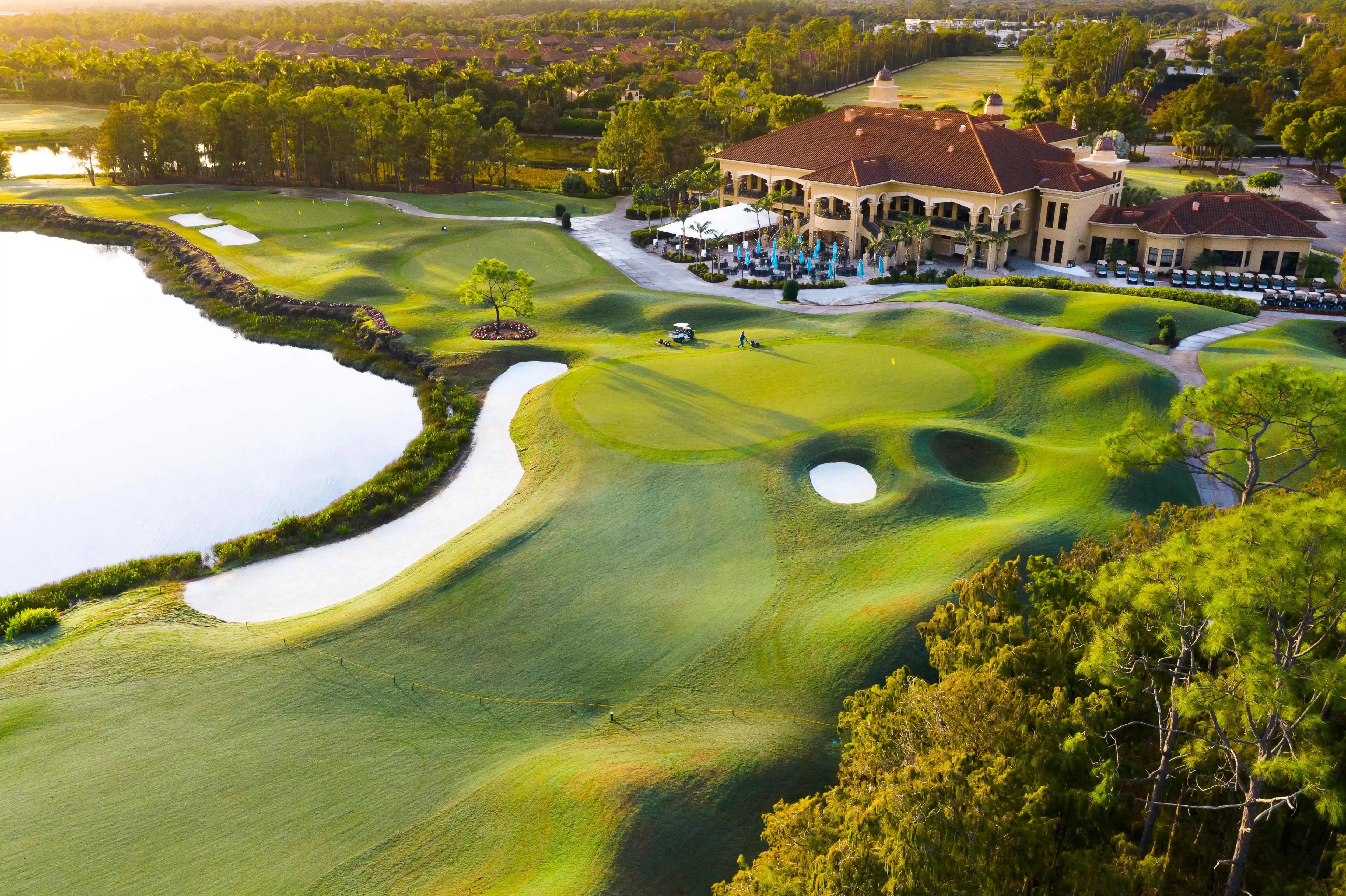 The Results ... Stunning.
Having a layout to play that's reasonably dry can be a rarity in the summer months. Haynes takes the time to play numerous courses around the region and believes that Olde Cypress' elevation and P.B. Dye design elements really set it apart in the area.
"We are one of the drier golf courses in the area and that's part of what makes us so unique," Haynes says. "Being a Dye design, we have a lot of earth movement. Most courses here are low-lying and flat. P.B. designed rolling green complexes and fairways, and the subsurface installed originally is phenomenal."
One thing golfers new to the area don't think about – and course managers often don't mention to prospects – is the sheer number of cart path-only days at courses around Naples in the summer. According to Haynes, Olde Cypress is one of the only courses in the region that rarely ever "CPO."
"That's huge a huge factor for us and our members," he says. "Some serious bragging rights."
Olde Cypress Golf Course Summer Closure Dates:
June 5-12
July 10-17
August 7-21
Interested in learning more about golf membership at Olde Cypress? Click here to contact Director of Membership and Marketing Melissa Hansen today.